Sorry, folks. I was out and about so I missed the first hour of arrivals. I will go back and fill in later. Here are the highlights from my mind re: Oscar arrivals.
If you want pictures, you can go
here
to the E site.
Taraji P. Henson--beautiful diamaond necklace and ring but why oh why did she lift up her dress to show Seacrest both her ankle tattoo and spanks? yikes.
Amy Adams and Heidi Klum are both wearing red. Amy Adams is wearing a killer beaded necklace. Heidi is wearing Roland Mouret and so it is structured but I'm not that impressed. Heidi does have some great chandelier earrings but awful, chunky bangles. Yes, I said bangles. This round does to Amy Adams in Carolina Herrera.
I say a flash of Marisa Tomei. Fortunately, she doesn't look completely tragic. Her makeup and hair are pretty. I need to see more of the gown to form an opinion.
Update: the dress has allll sorts of pleats and folds on it (Versace). not my fave. Definitely a case of the dress wearing the person. overwhelming details.
Amanda Seyfried (daughter in Big Love/Mamma Mia) is also wearing red. Her dress has a big bow at the waist. I'm normally a sucker for bows but not this one.
Mickey Rourke alert--he's wearing a tight-ass white Gaultier tux. he's so gross
Sarah Jessica Parker is wearing a big fru-fru ballerina-type huge ballgown. It's very girly and a different silhouette then what we normally see on the red carpet. Dior Couture? yep. It's a very light green. She looks great.
My favorite so far: Freida Pinto. She looks amazing in a royal blue John Galliano. Ladies, this is how you do it. Galliano is definitely my favorite gay pirate. aaargh
Ann Hathaway is wearing a glittery white column gown. She is also wearing a diamond brooch in her hair. Her makeup and hair people have done their best to make her look less-alienlike. On second glance, the bottom of the skirt is actually covered by layers of paillettes (think very large sequins). Verdict: love it!
Update: it's Armani Prive. I'm honestly surprised. Where's the Valentino??
Melissa George looks like she forgot her dress. She is wearing a corset gown that looks like a girdle with a skirt attached. not cute
Commercial break. My friend Anna is having an Oscars party featuring mini-pigs-in-a-blanket. I can't keep my mind off pigs-in-a-blanket...yummy... I got my self a bowl of ice cream with better-than-sex caramel syrup. I'm fixed now. sugar coma...
Sophia Loren is there! I love her. Her makeup is troweled on but she can do no wrong in my book. Her rack looks great. rarr!
Beyonce is wearing her usual mermaid, form-fitting dress. It has gold embroidered roses on it. hmmm Her makeup is weird though. She looks like she played up her eyebrows. eeew
Meryl Streep actually looks good. She normally wears things that make her look thick and flat-chested. She's wearing a draped gray gown and a soft updo. nice
Update: the waist of the gown is weird. It's as if the designer was trying too hard to cover her slight tummy.
Queen Latifah is wearing a mermaid dress. As a bigger girl, I always appreciate her. I want to like her, I really do, but I just don't love it.
Diane Lane and Josh Brolin are being interviewed by dumbass Seacrest. Diane's hair is softer and she's wearing vintage jewelry. I can't see her dress really well though. As soon as I do, I'll give you my opinion--my pretties.
Update: gooorgeous absolutely gorgeous detail on a black mermaid gown. love her
Jessica Biel is on the phone. She must be yelling at the blind dude who did her hair. Disheveled is nice, hot mess is not. It doesn't get better with the dress. She has a great body but she's wearing a too-short, unflattering ivory dress with black velvet pumps. Seriously not cute.
Evan Rachel Wood still has her red hair. She looks great. She should definitely keep her stylist since she has looked like a million bucks this awards season.
Marion Cotillard is wearing a sequined gown with a full tulle skirt. She always goes for it. I definitely like this dress better than last yeat's boob scales.
We're halfway done my peeps. Overall, I notice that ladies are wearing red or pale, muted colors inspired by the 2009 spring collections. Verdict to this point: Freida Pinto is my favorite and Jessica Biel looks like shit.
Angelina Jolie and Brad Pitt arrived. Angelina is wearing a black, sweetheart neck gown. It's fitted, guys! She's also wearing emerald drop earrings. beautiful
Update: they totally snubbed Seacrest. HA HA HA HA HA HA HA HA HA HA love that
Penelope Cruz is wearing an a-ma-zing diamond necklace. whew. She is wearing a really interesting, brocade and chiffon big fluffy gown. This is how you do details on the dress without it overwhelming you (ahem, Marisa Tomei).
Update: 1940s Balmain. There's nothing like vintage done right.
Oh, Kate Winslet, what the hell are you wearing? asymmetric strap making her boobs look like they are different heights, sheer fabric on the back and hips...boo! hiss!
Tilda Swinton, my friend, you are a mess. tranny-fied mess. hate it, abhor it, gross.
Alicia Keys is wearing a pink draped number. I like it except for the weird piece of chiffon coming out of her nipple. don't get that.
Okay, let's switch over to ABC. They have Tim Gunn!! I LOVE him.
Oh no, it's Kate Winslet again. Love her, hate the dress. It's Yves St. Laurent too. I should have guessed with the satin. I like her last black YSL gown much better. Some of you out there might like it, but you're wrong.
Oh no, Miley Cyrus is a bedazzled mess. I'll cut her a little slack because she's a teenage from Appalachia where more is more. Not good for a tranny, then not good for you sweetcheeks. It looks like it's made of weirdly shaped flower petals. Just say NOOOOOOO to Cinderella on acid.
Zac Efron is wearing slightly less makeup than his date Vanessa Hudgens. I'm not sure I like her dress either.
Viola Davis looks great. She's wearing a gold Marilyn Monroe-like pleated gown. She's wearing incredible diamond bracelets. love it.
Sidebar: love me some Tim Gunn. Here's what he said to Marisa Tomei: "Mickey Rourke has said that he loves to see you with your clothes off. Well, I for one love to see you with your clothes on." Oh Tim, that's because Mickey is creepy and desperate and you are super-gay. Love you, please be my best friend!
The show is starting so our time is coming to a close. I will add updates if I see anyone richly deserving of some remarks. Let's do this next year!
Goddess of the evening:
Trash bucket who should have stayed home:
Jessica Biel! If it tells you anything, I cannot for the life of me find a picture that I can post... Look what happens when you look like crap.
Honorable Skank-mention: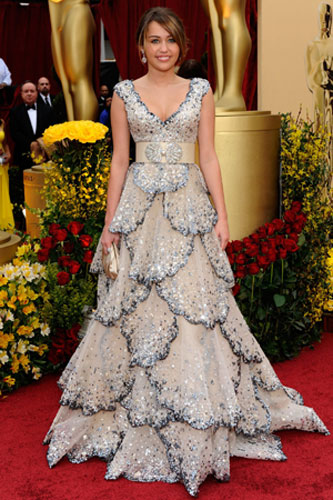 Update: Tina Fey is on stage right now and she looks abso-freakin-lutely fantabulous. At first, I didn't recognize her. She is not wearing black!